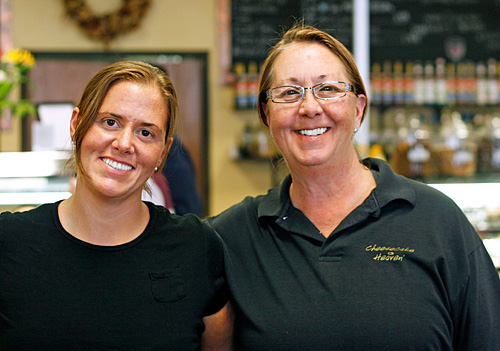 A common difficulty when baking cheesecakes is the tendency for the cake to crack when cooled. So how does Cheese Cake Heaven get their cheesecakes so incredibly smooth?  You would have to ask Nancy Kimps, the master mind behind the 90 delicious flavors of cheesecakes at Cheese Cake Heaven.  It took her four years to perfect the base recipe and she's not going to give it up that easily. 
Nancy's love for baking began with her father.  Being in a large family with six other brothers and sisters Nancy took to cooking in order to spend quality time with him.  As the years went on, Nancy was on a mission to create the smoothest, creamiest cheesecake.  All that hard work paid off four years later when she was convinced she had the perfect recipe.  With Golden Fork awards from 2006 through 2009 and a People's Choice Award for 2009, you could say Cheese Cake Heaven does have the perfect recipe.  Every cheesecake made from Cheese Cake Heaven is prepared from scratch to keep it consistently perfect every time.  We have always followed a simple solid idea when it comes to cheesecake: use the best, freshest ingredients possible and make small handmade batches to insure freshness and quality. We don't just bring your cheesecake experience to the next level. We bring you to Cheese Cake Heaven.  Go on, try us.
Don't mistake us, we not only carry the finest cheesecake, we also offer soft muffins, short bread cookies, and biscotti's; we have signature homemade soups, build your own salads, paninis and sandwiches too.  Nancy may be in charge of the bakery side, but her daughter Kaysie commands the deli. With popular choices such as the Rachel, Club Brie, and Chicken Cordon Guoda you will never leave hungry.
Nancy, Kaysie and all of us at Cheese Cake Heaven welcome you to try anything and everything on the menu.  Isn't it time to treat you? 
Employment at Cheese Cake Heaven